I'm sure you've seen the list of what's going to be on the Lost Season 1 DVD now and it looks AWESOME.



Highlights (for me)
- If you have a DVD-ROM drive, you can access the "Lost Scriptscanner," which allows you read the entire pilot script while following along with the episode. You can click on any line of dialogue in the script and immediately interact with that scene.
*SQUEE*

-* "Audition Tapes" (27:34): We get to see Matthew Fox, Dominic Monaghan and even Jorge Garcia play Sawyer.

Foxy as Sawyer?! I've been SO curious to see how Foxy would have played him ever since I heard about everyone and their dog auditioning for Sawyer. (Although Josh IS Sawyer and thank God for that as he's only my favorite TV character of all time.)

* "The Art of Matthew Fox" (6:07): Fox discusses the many photos he took on the set as sad music plays.

As sad music plays? LOL. But looking forward to Foxy discussing his pix and seeing some behind-the-scenes shots. *crosses fingers for nakedjoshnakedjosh*

* "Lost: On Location" offers short behind-the-scenes documentaries about individual episodes, including "House of the Rising Sun" (7:19), "Confidence Man" (4:24), "All The Best Cowboys Have Daddy Issues" (4:56), "Whatever The Case May Be" (2:58), "Hearts and Minds" (6:20), "Special" (3:05) and the finale, "Exodus" (9:21), plus "The Trouble With Boars" (5:09), a look at the difficulties wrangling the animals during several episodes.

Thank you, boar expert! ;-D

* "Deleted Scenes" include "Smoking" (1:10) with Charlie and Sawyer having a meeting of the minds...
Charlie and Sawyer sharing a cig? Talking about addiction?

* Bloopers! ;-D

* Scenes from the Paley Festival!

(The birthplace of Foxshy!)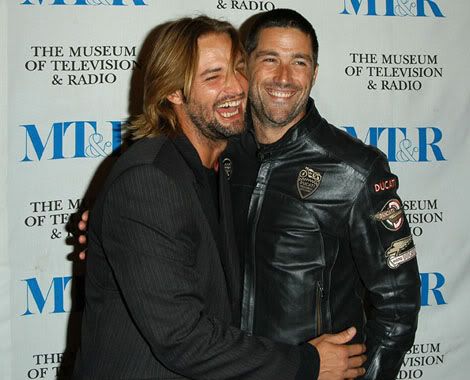 But what are we NOT getting? Commentaries on any Jack or Sawyer episodes by, repsectively, Foxy or Josh. :-(

And NOT listed among the deleted scenes is the scene from WTCMB where Jack gives Sawyer the meds or the scene from "Homecoming" where Sawyer helps Kate up.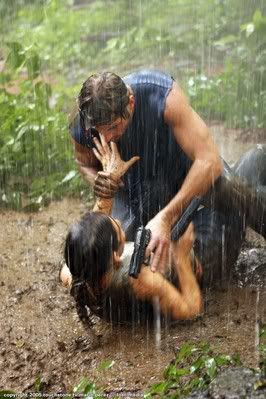 Dammit, we've seen the photos! We demand those scenes! Maybe they'll be there after all? It's like waiting for those extra Faramir/Eowyn scenes and then going that's it?!!

I mean, I'm still going to be in HEAVEN over this DVD set. But I wanted those scenes! *stamps foot*